Mandate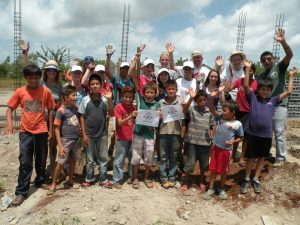 Amazing People is a fundraising movement dedicated to celebrating Ottawa's amazing people while raising money to support our three main charities SchoolBOX, Hera Mission and the Michaëlle Jean Foundation, while sometimes supporting guest charities like Project North. We raise money to make education possible in Nicaragua and Kenya, and here in Canada by giving young people the tools to be educated. We also provide sports equipment to Canada's northern children. To promote leadership in Canada, we offer scholarships to older students to travel to our communities to help with school and community centre enhancement.
How We Do What We Do

Amazing People hosts a number of charitable events every year, including our signature event, the Amazing People Gala, but also including the Amazing Pillow Fight, the Amazing BBQ, the Amazing Art Auction and in 2017 the Amazing Party in the Park, in partnership with Ottawa Race Weekend.
Who We Are

Amazing People is a committee of Ottawa leaders with a vast network in business and philanthropy. Our group works tirelessly to host fun and unique events to inspire and raise much needed money for children in need. Our goal is to create the next generation of leaders through education, mentorship, and by leading through example. Our team, all amazing people in their own right, work together to shine a light on extraordinary work being done in the community we all love. Our committee dedicates hundreds of hours each year to fulfill our mandate.
Our Partners

Amazing People is pleased to announce that to mark Canada 150, it is joining with the Michaëlle Jean Foundation co-founded by former Governor General Michaëlle Jean and her husband Jean-Daniel Lafond to raise money to empower Canadian youth to use arts to improve their lives and revitalize their communities. A series of Canada 150 celebratory events will be organized over the course of the year, culminating in this year's Amazing People Gala, which the couple will attend on October 21st in Ottawa. The Michaëlle Jean Foundation is a national charitable organization that uses its unique arts for collective impact model to enable underserved youth to use creativity to change their lives and their communities. To that end, they work with arts organizations, the business sector, local organizations, government and other sectors of society to make a lasting difference in the lives of Canadians across the country. Through their programs, thousands of young people have been empowered to use the arts to build new solutions to pressing issues affecting them.